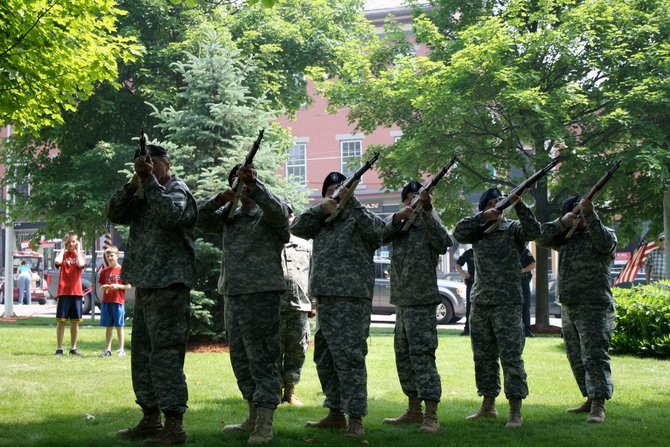 Middlebury — American Legion Post 14 officials have announced that the theme for this year's Vergennes Memorial Day Parade, May 26, will be "Veterans: Never to Be Forgotten." In Middlebury, the shire town's annual Memorial Day parade is also held on May 26.
The annual Vergennes parade—the largest Memorial Day parade in Vermont—will start at 11 a.m. on Monday, May 26, beginning at Vergennes Union High School. The route will wind through the city and conclude at Vergennes City Park.
In Middlebury, the annual parade is also May 26 and begins at 9 a.m. at Porter Field off of South Street in Middlebury. From Route 7, follow the signs toward the hospital onto South St. Porter Field is on the right (look for the football field). it finishes at monument across from the intersection of Route 7 and Washington Street.
Several marching bands and bagpipers as well as floats and marcher. This parade is held early as many attendees head to the Vergennes parade immediately afterwards.
The Vergennes parade route is two miles long and includes veterans groups, bands, and lots of floats, antique cars, fire trucks, parade horses, Boy Scouts, Girl Scouts and more.
Following the parade, Memorial Day remembrances will be held on the Susan O'Daniel Bandstand on the park where retired Vermont Army National Guardsman Mike Wokciechowski will provide the keynote speech.
Anyone planning on being a participant in the Memorial Day Parade, and has not yet contacted the American Legion, should contact the Legian via e-mail at post14@myfairpoint.net or by calling 802-877-3216.
Floats planned for the parade must be placed in line at the high school by 10:20 a.m. on the day of the parade in order to be part of the judging process.
Following the parade, the Annual Vergennes Memorial Day Chicken BBQ starts at 1 p.m. at American Legion Post 14. The price is $ 8 per person.
Vote on this Story by clicking on the Icon