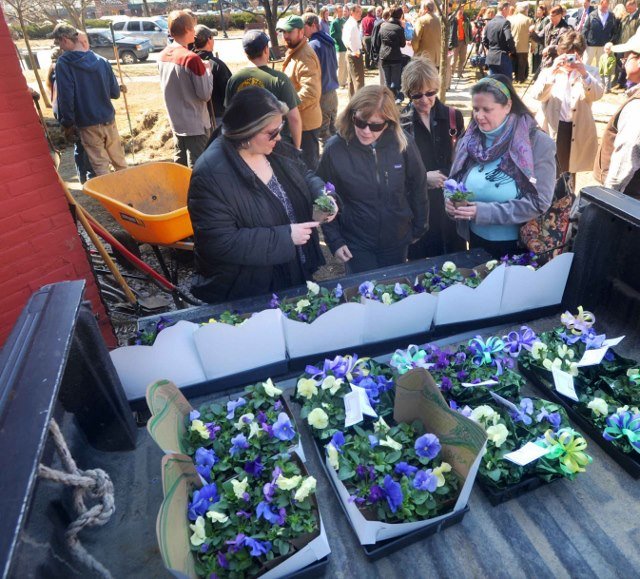 Rutland — Rutland Blooms is about to get a helping hand from students at the University of Vermont.
A team of UVM landscape architecture students are helping to beautify Rutland, giving Green Mountain Power's U.S. Route 7 service center gardens and solar array a flowering makeover.
The students, members of Professor David Raphael's course, Sustainable Landscape Architecture and Construction taught in the Rubenstein School of Environment and Natural Resources at UVM, will build a landscape project they designed to create a park-like feel at GMP's Renewable Education Center at the intersection with Post Road. The project will create raised flower beds using native and local plants that will enhance the flow of the tours for schools and other groups.
"We are excited about the new look that the UVM students have designed for our Renewable Education Center, which will make it feel inclusive and welcoming," said Steve Costello, a GMP vice president. "Rutland is truly blooming, as this and other Rutland Blooms projects all work together to create a more welcoming and beautiful region."
UVM students created the design and will build it on-site May 12 and 13, with assistance from some Green Mountain Power Energy Innovation Center employees. Students from Stafford Technical Center's Forestry and Natural Resources class will also pitch in on Monday.
"We are really pleased to work closely with Vermont's colleges and local schools," said Costello. "GMP's solar arrays and hydro station attract a lot of interest from school groups and tourists as they travel Route 7, and the beautification work the students are doing will make the experience of touring the site spectacular."
"We were thrilled to have the opportunity to not only design, but install the upgraded landscaping for the site," Professor Raphael said. "It's one thing to create a landscape design on the computer, but a much greater learning experience to then bring it to life in a very public place. This is a great partnership."
Rutland Blooms is a grassroots campaign started by GMP last spring to beautify Rutland. Dozens of schools, businesses and organizations participated last year, planting gardens, wildflowers and 10,000 daffodils. A major project, sponsored by GMP, Casella, Rutland Regional Medical Center and The Vermont Country Store in collaboration with Rutland City, is being planned for early June, along with numerous smaller projects. Rutland Blooms also provides financial support to nonprofit groups that want to do plantings, as well as funding for projects on public lands.
Vote on this Story by clicking on the Icon