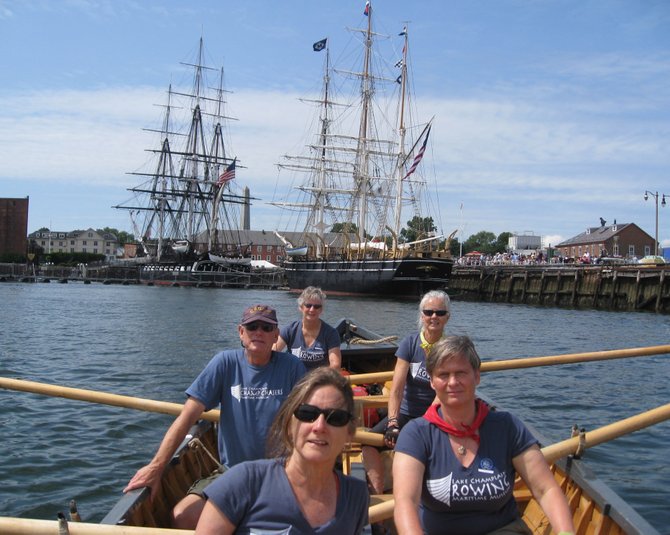 Boston, Mass. — During her thirty-eighth voyage, the Charles W. Morgan visited the National Historical Park at the Charlestown Navy Yard in Boston, Mass., on July 18-20. The last wooden whaleship in the world was berthed next to the USS Constitution. On board the Morgan was the whaleboat built by Lake Champlain Maritime Museum's Champlain Longboats program, and members of LCMM's Community Rowing Club traveled to Boston for the weekend to participate in the whaleboat races during the event.
The participating whaleboats, all of which were newly built for the Morgan's voyage, were crafted by Gannon & Benjamin Marine Railway, Great Lakes Boat Building School, Rocking the Boat, The Apprenticeshop, Lowell's Boat Shop, Independence Seaport Museum, Philadelphia Wooden Boat Factory, Lake Champlain Maritime Museum, New Bedford Whaling Museum, and Alexandria Seaport Foundation.
"The weekend was awesome, especially with our team in the race and our grandkids in tow to watch," reported Dean Percival, who traveled with the LCMM group. "This was a great moment in history – I was glad to be part of Morgan's 38th voyage and the celebration reuniting the whaleboats with the mother ship."
Just a week earlier, on July 12-13, Lake Champlain Maritime Museum hosted a full weekend of on-water rowing and racing. For the first time, builders and rowers of four-oared St Ayle's Skiffs were invited to a dedicated rowing race and swim on Saturday as well as the opportunity to participate in the Lake Champlain Challenge Race on Sunday. Visiting crews included 20 rowers from Ontario, six from Pennsylvania, and two teams from Connecticut. The group from Bethlehem Pennsylvania brought with them the remarkable "Musical Ark," Sephira, a St. Ayle's skiff embellished with a dragon head and tail, designed to be strung and played like a musical instrument.
On Sunday, July 13, the visiting "Skiffie" crews joined in Lake Champlain Maritime Museum's traditional Lake Champlain Challenge Race. Sixty five rowers, kayakers, pedalers and paddlers completed the 3 mile course on a blustery summer day. Crews for the thirty-two ft. six-oared pilot gigs in the Challenge Race came from Saquish and Gloucester, Massachusetts as well as local teams from the Lake Champlain Maritime Museum's Community Rowing Club. The race also included a newly created St. Ayle's Skiff division. After the race a lavish spread of food prepared by LCMM rowing club volunteers was served to over one hundred rowers and guests.
(Continued on Next Page)
Prev Next
Vote on this Story by clicking on the Icon