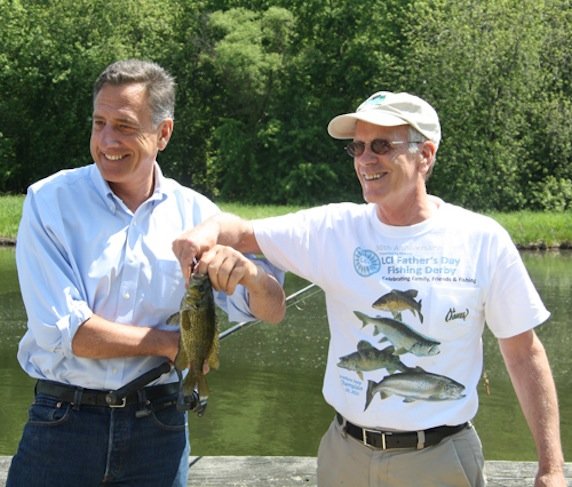 Colchester — Not two minutes after Gov. Peter Shumlin (D) cast his line in the Fifth Annual LCI Governor's Cup, the Winooski River served the governor one of the day's largest fish in the May sunshine. Just a few minutes later, Congressman Peter Welch (D) pulled another good-sized rock bass from the same spot, while close by an osprey picked a fish out of the river.
Although neither the congressman nor the governor took first place in the Lake Champlain International Governor's Cup this year, they were sure to remind everyone of how important Lake Champlain and Vermont's water are to our quality of life, communities, and economy.
"Lake Champlain is one of Vermont's most important resources," said Shumlin while holding the esteemed LCI Governor's Cup. "The fishing in Lake Champlain is the best it's ever been," the Governor proclaimed.
Nearly a dozen teams vied for the Governor's Cup this year, and almost every team weighed in at least one fish. In the end, though, the 2010 LCI Governor's Cup champions, Team Lanzetta of Colchester caught the most weight of fish for 2012, and brought home the Cup once again with an impressive 26 fish.
The convenience store group Jolley graciously donated lunch and coffee for the Lake Champlain supporters while Hog Island Bait & Tackle donated dozens of their famous night crawlers to help ensure that fish were reeled in.

Vote on this Story by clicking on the Icon