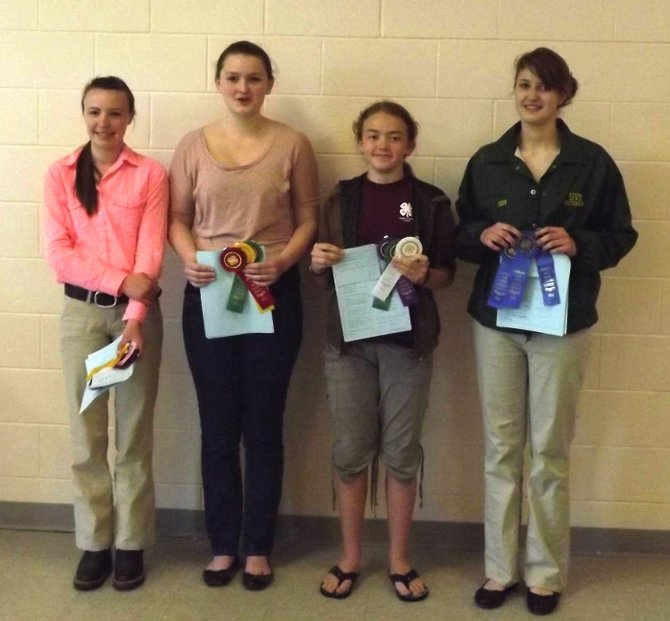 Burlington — Over 40 4-H club members from around Vermont, ages 8 to 18, gathered in Jericho, Vt., to test their horse judging skills at the State 4-H Horse Judging Contest. The annual competition was sponsored by University of Vermont (UVM) Extension and held at Freedom Farm and Jericho Elementary School).
Competitors judged performance and conformation classes including hunter horses in hand, quarter horse mares, quarter horse geldings, English pleasure, hunter under saddle and quarter horse western pleasure. They also provided written placements for each class, which were scored according to the placings by the official judge.
The top four overall senior competitors (ages 14 to 18) will represent Vermont as the state 4-H horse judging team at the Eastern States Exposition in West. Springfield, Mass., and at Eastern National 4-H Horse Round-up in Louisville, Ky. this fall.

They are Jennifer Dickinson, Colchester (first); Bethany Demuynck, Underhill (second); Kaelyn Jenny, Essex (third); and Emily Campbell, Montpelier (fourth). Summer Colley, Colchester, will be the alternate.

All competitors age 12 and up also gave oral reasons for their placings.
The novice senior division was open to anyone 14 years old and up who is new to 4-H or this competition. Participants earned ribbons but were not eligible for a spot on the state team. Overall winners in this division were Anna Corso, Danville (first), Hallie Donegan, Shelburne (second), Katelyn Patenaude, Derby Line (third) and Katie Magnant, Bakersfield (fourth).
In the 12- and 13-year-old junior division, Emma Pearson, North Hero, won top overall honors, followed by Alexis Walker, Essex Junction (second); David Gringeri, West Haven (third) and Arin Kenyon, Chester (fourth).
In the 8- to 11-year-olds' contest, Faith Ploof, Essex Junction, took home the blue ribbon, with Hannah Lang, Essex, taking second. Bridget Webber, West Burke, came in third and Emily Boyd, Fairfax, was fourth.
(Continued on Next Page)
Prev Next
Vote on this Story by clicking on the Icon