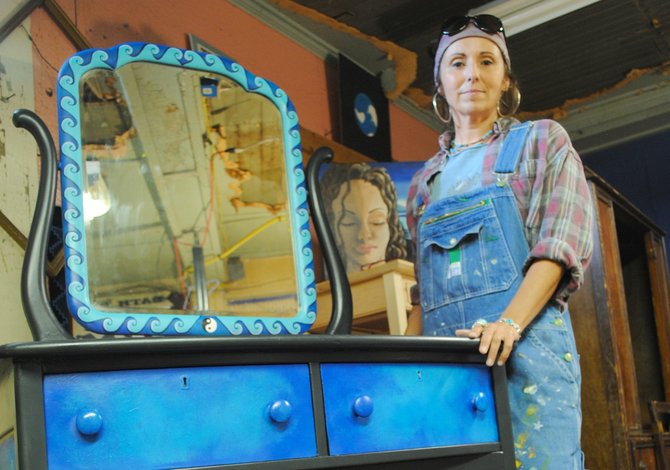 Brandon — Robin Callahan of Brandon knew she had an artistic gift at an early age. But it took until her 40s to begin seriously tapping into a deep reservoir of creativity which she now expresses as 21st-century folk art on traditional canvas as well an on some rather unusual surfaces—clothing and furniture, to be exact.
"I consider myself an improvisational visual artist," Callahan said. "I never know what shape my painting will ultimately take."
Callahan said she approaches her art through the object's personality upon which she will apply acrylic paint.
"I contemplate the personality of the thing until a loose idea or theme forms in my head. Then I just allow the paint to flow off the brush and an image begins to take shape," she said.
Callahan's work appears on both canvas and wood.
For example, the artist-designer seems especially adept at depicting fanciful landscapes with objects in what can only be described as silhouettes.
Trees and people appear back lit by either the rising, midday, or setting sun or the Moon and distant stars.
One of her iconic folk paintings on canvas, titled "The Gathering", depicts a group of people gathering in a woodland at dusk.
Stars appear in twilight sky of "The Gathering" as silhouetted men and women assemble—some clearly nude, others clothed—for what appears to be something akin to pop singer Van Morrison's "Moondance". This work exudes pagan joys and mysteries that excites the viewer to want to be part of the dusk festivities—if only we could project ourselves into the painting's altered reality.
Callahan's newest creative expression is in painting recycled furniture.
Transformed by the her brush strokes, an early 20th century vanity is transformed into a thing of folk beauty with either figures, such as a horse or celestial objects, or other symbols, painted on the tops, sides and drawer faces.
(Continued on Next Page)
Prev Next
Vote on this Story by clicking on the Icon