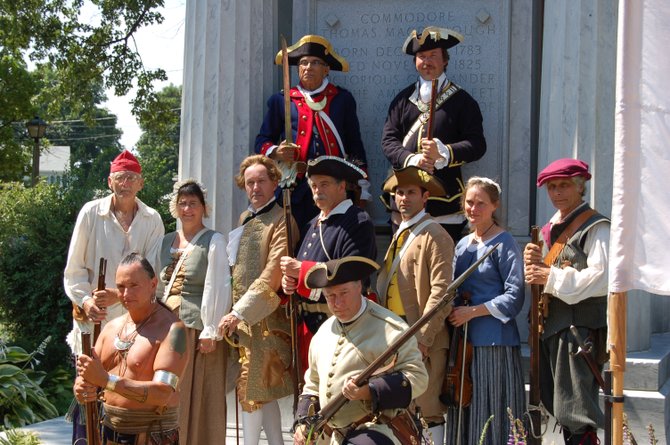 Vergennes — The Addison County Chamber of Commerce, with the support of individual and business sponsors, is hosting French Heritage Day on Saturday, July 14, in Vergennes.
The event celebrates the area's French-Canadian heritage, but can be enjoyed by all, regardless of family descent. Full details of the event and a schedule of activities are available at www.frenchheritageday.com.
Activities July 14 run from 10 a.m. to 4 p.m.
Vergennes City Park is hosting day-long activities featuring colorful re-enactors, Franco-American music, French-Canadian fiddling, response songs, a native American storyteller, horse and carriage rides, step-dancing, fencing demonstrations, French food, and traditional craft demonstrations such as spinning, weaving, rug hooking, rag rug making, crocheting, knitting, chair caning and rush weaving, and basket making. Exhibits will range from French artistry, to historical information and tools, to antique vehicles and engines.
Hands-on fun includes pumping water, making rope, old-time games and children's activities such as "Les Chapeaux," a puppet theater. Trace your roots with the Vermont French-Canadian Genealogical Society or practice your French with any number of people including participating local French conversational groups. Visit with Samuel de Champlain (re-enacted by Don Thompson) who will provide a first-person historical interpretation using maps, trade goods and navigational equipment.
At Bixby Library view the Comte de Vergennes Historical Presentation Box of letters, pictures, and more which was compiled and sent to Versailles, France in March 2012 in commemoration of the Comte's 250th anniversary.
Performances at the Vergennes bandstand include the Fiddleheads, Gitane (gypsy) duo Lausanne Labombarde and Rick Ceballos, Va-et-Vient, and Erik & Ericka Andrus. Tim Perron will perform a piano concert at St. Peter's Catholic Church in the afternoon. At 2 p.m. there will be the French Heritage Day Waiter's Races for professionals, amateurs, adult waiters & children waiters.

French Heritage Day closes Saturday night (4-6 p.m.) with a Veillée (pronounced "vay yea"), a traditional French Canadian supper (served 5-6 p.m.), held under tents in City Park. Franco-American musicians, Voulez-Vous Danser (Do You Want to Dance), will be providing music along with square/round dancing with instruction.
Admission buttons are $15 per person and are available at Everywear for Everybody and Linda's Apparel & Gifts in Vergennes or by contacting the Chamber at 388-7951. Show your admission button and receive discounts at several area businesses on Friday and Saturday, July 13-14.
At dusk the Otter Creek Falls will be lighted and can be viewed nightly through Aug. 26.
Vote on this Story by clicking on the Icon