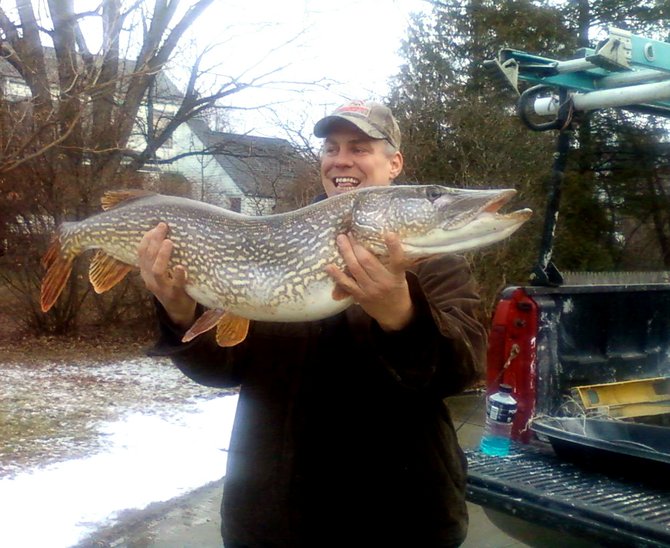 Colchester — The January day started with low expectations. Thin ice, shallow water, and broken tip-ups and augers all led to the conclusion that it would be a slow day on the ice for Vermonter Craig Smith and his fishing buddies.
And indeed it was to start. So much so that, after a couple hours, Smith left the ice for his son's basketball game, leaving the line in the hands of some buddies.
Around half time he got a status report from them: one fish, an 11.5-pound northern pike. Nothing to be excited about. The slow prediction was proving itself.
After the game, Smith returned to the ice to check in on everyone. Still, there was nothing. They waited for a flag, but after a couple more actionless hours they made one last check of the traps, starting with the one nearest to the shanty.
Anyone who fishes with Smith knows that he gets his joy from watching others pull up fish. "The thrill for me is bringing others out on the ice. I usually set the traps and bait the hooks, but I rarely ever actually reel the fish in."
This, he said, is what made this fish so special. "The most incredible part for me is that catching it was a total accident."
As Smith emerged from the shanty to check the trap, the flag hadn't been tripped. He sent the other guys out to the far traps, and went to check on the one he knew to be broken. As he approached, that's when he noticed that half of the line was gone and more was still spinning out! "My heart jumped," said Smith. "I knew it took a big fish to peel away that much heavy line."
His assumption was correct.
Smith had been fishing 6 inch shiners with 45-pound line, but only had a 20-pund leader on the end. When he felt the pull of the fish, he knew he had to play it very carefully.
(Continued on Next Page)
Prev Next
Vote on this Story by clicking on the Icon