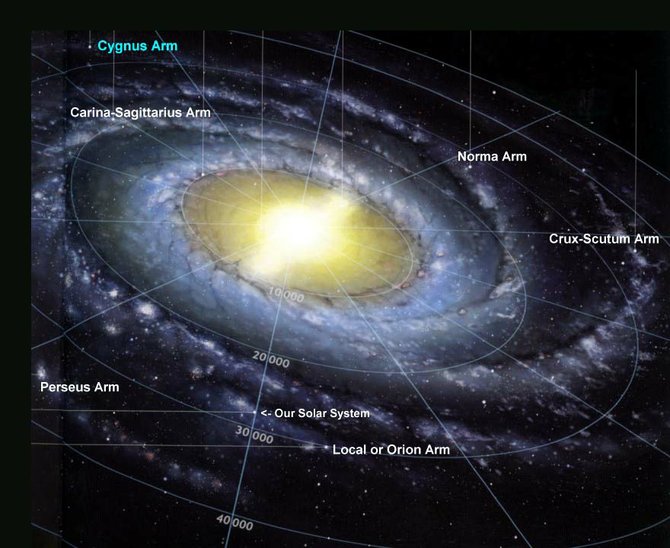 Middlebury — Before we can contemplate the scale of our universe, we must first come to grips with the sheer magnitude of our home galaxy, known to us as the Milky Way.
The Milky Way Galaxy is thought to be either a barred spiral or spiral or whirlpool type galaxy—more or less disk shaped with swirling or tightly cocked arms composed of interstellar gas, dust, stars, planets and other celestial objects.
It's by no means simple to determine what our galaxy would look like when viewed from above (or below) it, especially since our solar system is embedded within it. But astronomers have extrapolated the size and general shape of the Milky Way based upon our edge-on view of the galaxy's center as seen from Earth.
So, based upon these extrapolations, astronomers believe the vast disk of the Milky Way to be approximately 100,000 light years or 30 kiloparsecs in diameter (you can figure out the Milky Way's metric length based upon the formula of one light year equaling 9.5 x 1,015 meters). While the Milky Way's disk is gigantic is scale, it's only about 1,000 light years thick which is surprisingly very thin in comparison.
If you constructed a scale model of our galaxy, it would closely resemble—at least in basic concept though not in flavor—a pizza pie.
Within our galactic pizza-pie is a topping and crust composed of interstellar dust, gases, 200 billion stars, more or less, various celestial objects, and 50 billion planets—with 500 million being Earthlike. We haven't factored-in the number of rogue planets adrift in the Milky Way. There may be twice as many of these free-floating, sunless/solar system-less planets as there are stars.
Based upon deep space images in both the visible and infra-red realms of the electromagnetic or EM spectrum, most of the Milky Way's stars appear situated within the disk of the galaxy. Also, some stars orbit below, above, and alongside the galactic plane. On the edges, galactic boundaries are not so neatly defined.
(Continued on Next Page)
Prev Next
Vote on this Story by clicking on the Icon